Let's get together and Party like a Penguin.
Are you planning a penguin party theme?  Here are some awesome ideas for planning, decorating, food, music, entertainment, games, and having fun at your Penguin Party.
The party can be held indoors or outdoors any time of year, even a winter snow party. Just imagine building some igloos in the snow to play in. Your decorations can be made by using a combination of ready-made items and DIY. The colors are simple: use black, white, and orange.
Start early with organizing and planning your party. Make a checklist as you read through this article about what you want to have for your party.
Step One: The Penguin Party Invitation
Plan a date and time for your party. Send out your invitations 2 -3 weeks before the event. Create a simple invitation to send in the mail or via email. You can make the invitation with simple black, white, and orange paper. To make your own virtual invitation use a free online program such as Canva.  Include the date, time, dress code, and any special note that you want to tell your guests.
For a little added fun invite your guests to dress as a Penguin. Ask your guests to dress in black, white, and orange. Have a prize for the best-dressed penguin.
For the younger guests ask if they would like to bring along their favorite Penguin toy to join the party. The more the merrier.
Step Two: Create Fun Name Tags
Create cute Penguin name tags for each guest to wear. A few of our favorite names are Snowy, IcePop, Candy Cane, Cleo, Arctic, Snowball, Flippers, Rico, and Skipper. Have your guest pick their own favorite name or use one of the above.
If you would like you can print the photo below and cut into squares to use as name tags.
Step 3: Decorations and Table Ware
Banners add fun to the party room. They create a party atmosphere and are easy to hang. You can create your own banner with some string or yarn. Cutout some penguin shapes from black and white paper and attach it to your yarn. For those who aren't as crafty, you can find some ready-made banners at the bottom of this page.
Don't forget to decorate your plates, cups, table cloth, and centerpiece. It is easy to find white paper plates and then just and some shapes to make penguin faces or simply use black and white plates and napkins. For more decorating ideas check out our Penguin Page on Pinterest.
Step 4: Make Some Penguin Treats
Here is some fun Penguin treats that we found on Pinterest. Marshmallow Penguins, Chocolate Dipped Strawberry Penguins, Oreo Penguins, Banana dipped in chocolate, and even how to make a Penguin cake. Children can help make these fun treats, especially dipping the bananas in chocolate.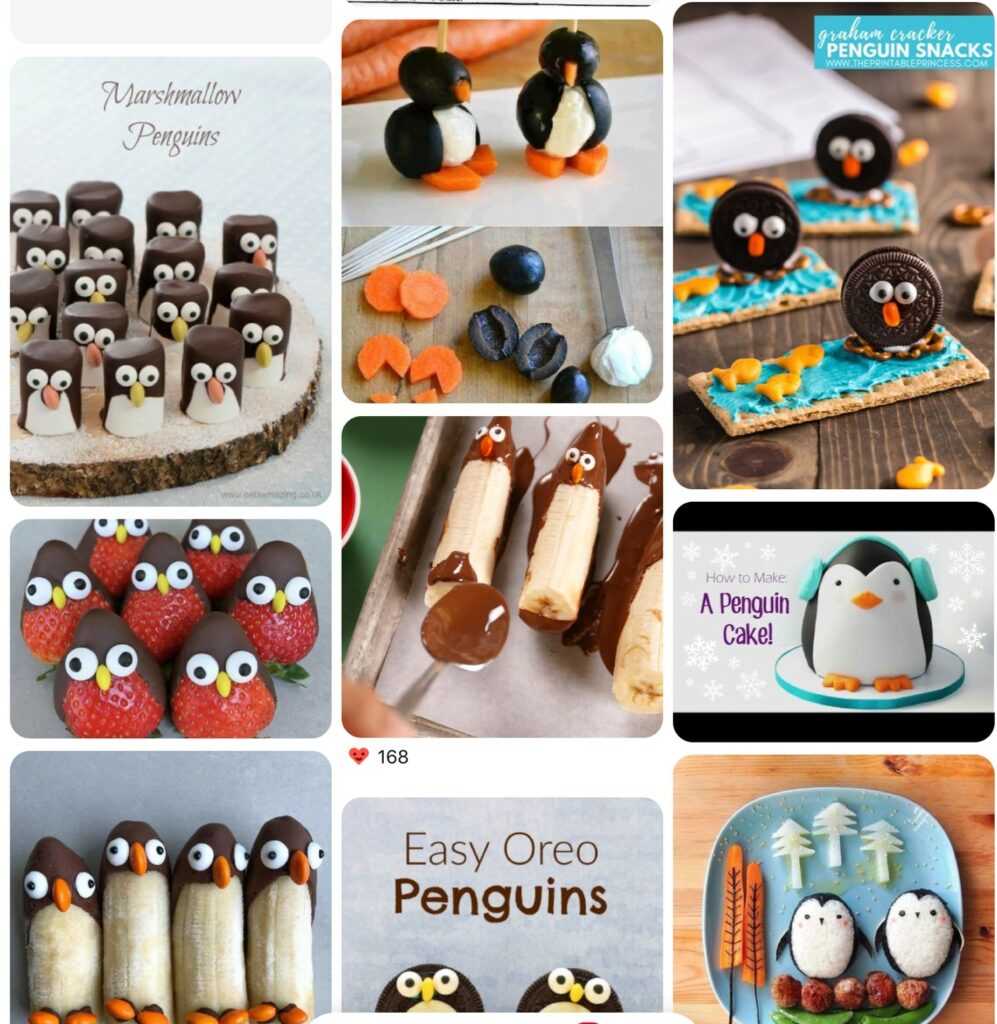 This yummiest appetizer will not last long. Olives stuffed with cream cheese and a little bit of carrot for the beak and feet. They are almost too cute to eat.
Step 5: Plan Some Games
Penguin Trivia Game
A fun game to play is Penguin Trivia Facts. Ask 20 Penguin trivia questions and the person who answers the most questions correctly wins. Here are 15 fun penguin trivia facts to use.
How many species of penguins are there?
Are Penguins birds?
Where do most of the Penguins in the world live?
Do Penguins have teeth?
How fast can a Penguin swim?
What is countershading?
Can Penguins see underwater?
Which species of Penguins is the largest?
Which species of Penguins is the smallest?
How long does a male Emperor Penguin incubate eggs?
Name three countries where Penguins live.
Do Penguins live at the North Pole?
How much time do Penguins live on land and water?
How long can an Emperor Penguin stay underwater?
Which species of Penguins is the second largest?
For the answers above see Fun Penguin Facts.
Penguin Letters Word Game
Have all of your guests sit in a circle. Start with one person and take turns going clockwise. Each person takes a turn to create a word using the letters in Penguin. The first person must say a word that starts with a P, the second person says a word that starts with an E, the third person says a word that starts with an N. After you reach the last N in penguin the next person must think of word that starts with a P and continue using all the letters again. No word can be used twice. When a guest cannot think of a word they are out of the game. The winner is the last person remaining.
Step 6: Play Penguin Movies
Of course, you don't have a party and invite guests over to watch movies. But it can add some fun to play a Penguin documentary on a big screen TV with the sound off. After all, you should invite some real penguins to your party. My favorite is DisneyNature "Penguins" what is your favorite Penguin movie?
Step 7: The Penguin Dance
If you have a large enough area, break out the music and dance like a penguin. The music from Madagascar really will get things hopping. Your party is one of celebration and one that you want to be memorable so get the party going with a little dance. Penguins are natural-born dancers and when their moves are put to music magic happens. They like to waddle and flap their flippers. Let's celebrate and dance like a Penguin.
Step 8: The Best Penguin Present Ever
The Perfect Penguin present –  in honor of your party adopt a Penguin at your local zoo or the World Wildlife Organization.
Step 9: Order Your Party Supplies